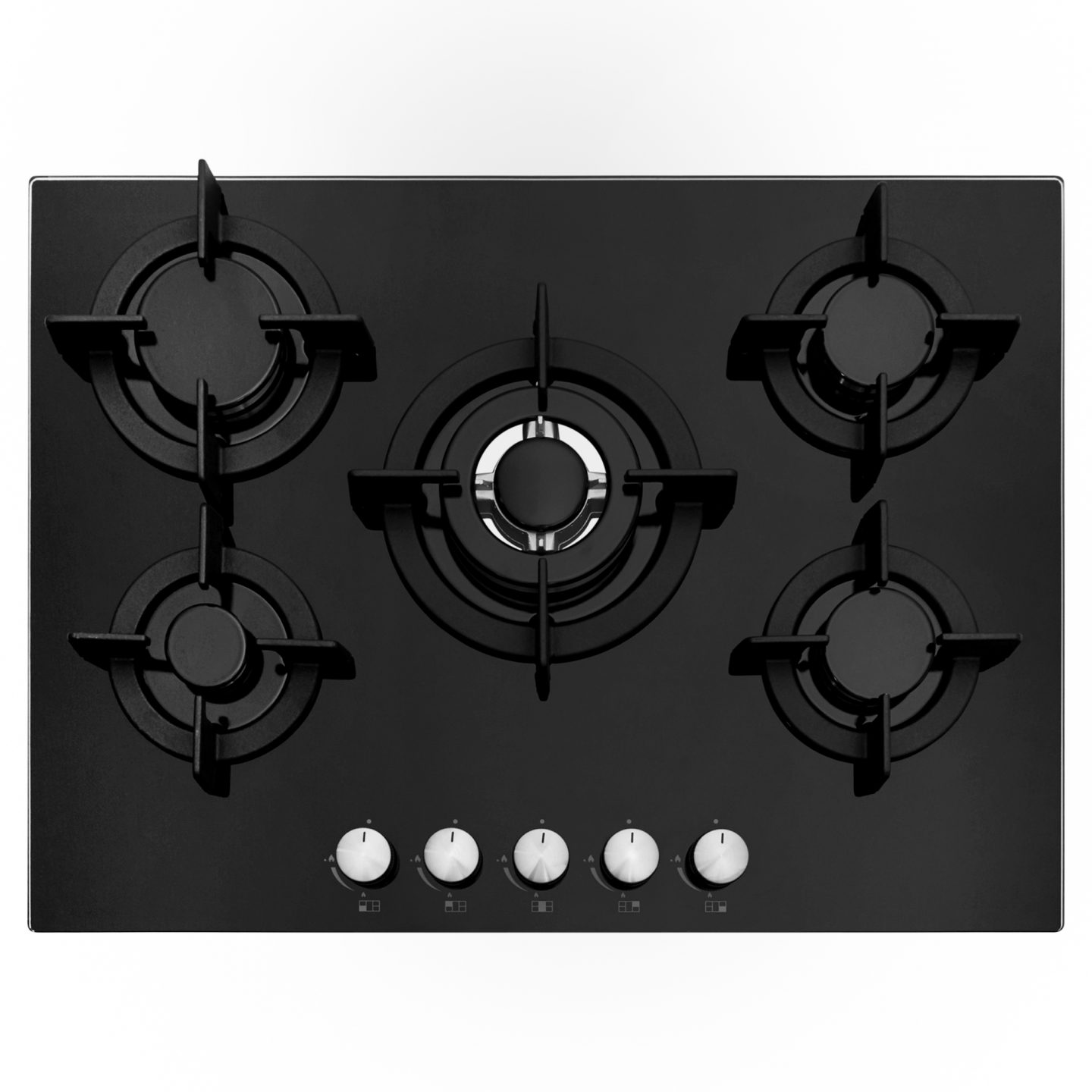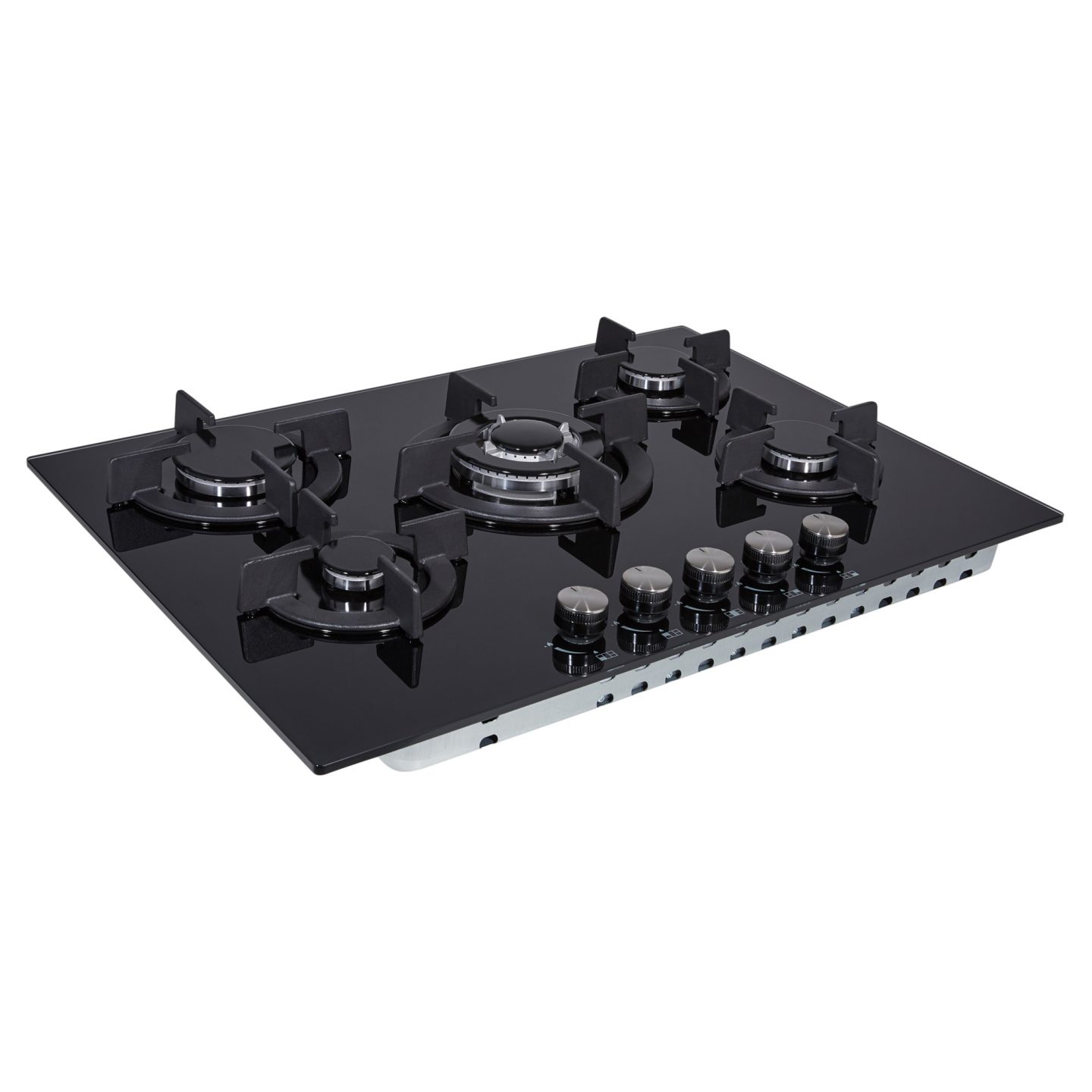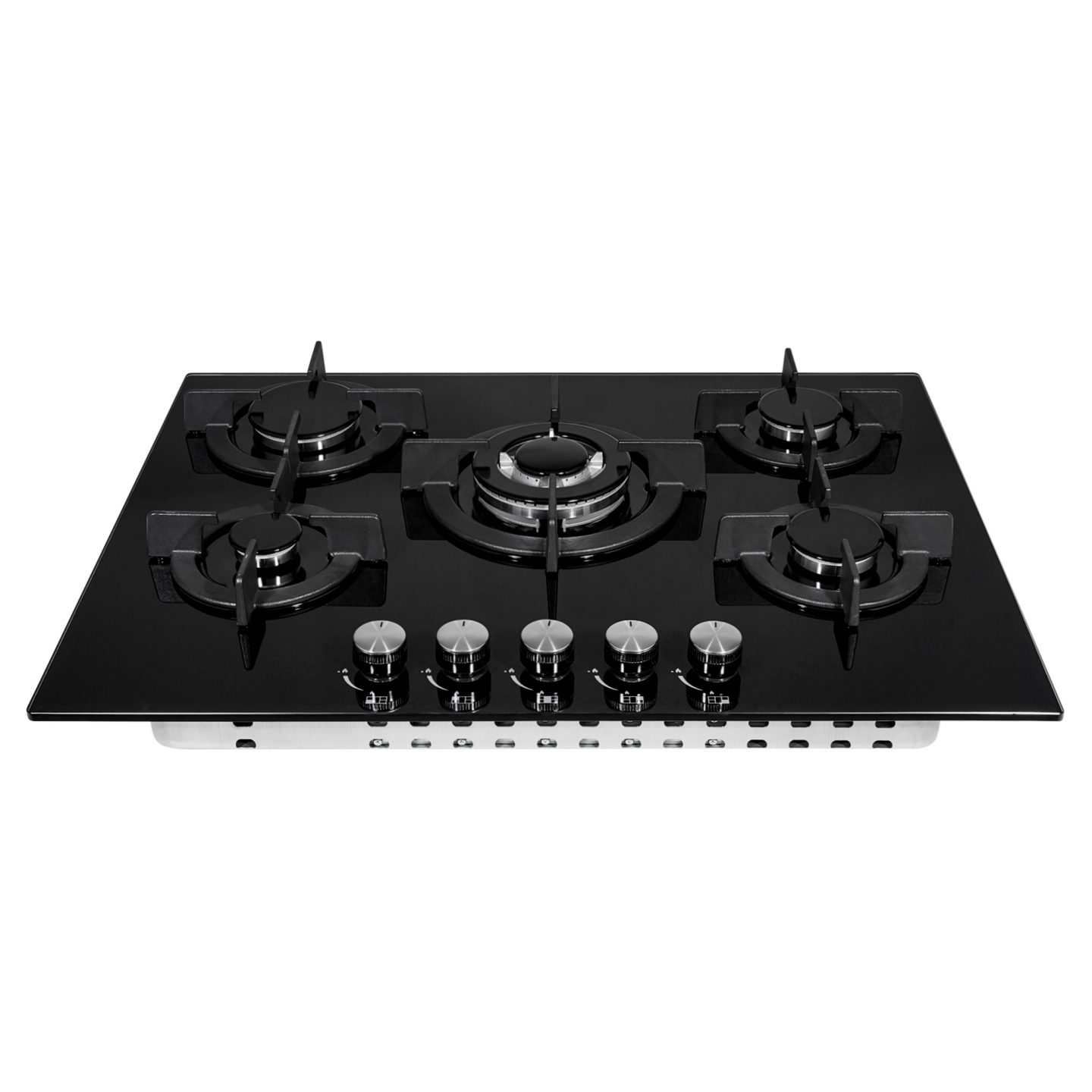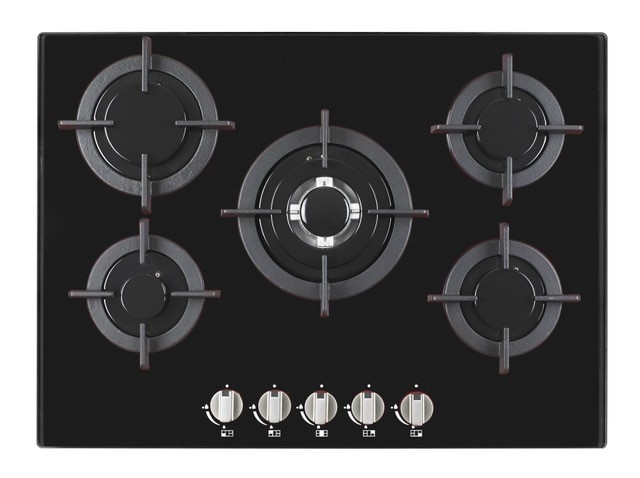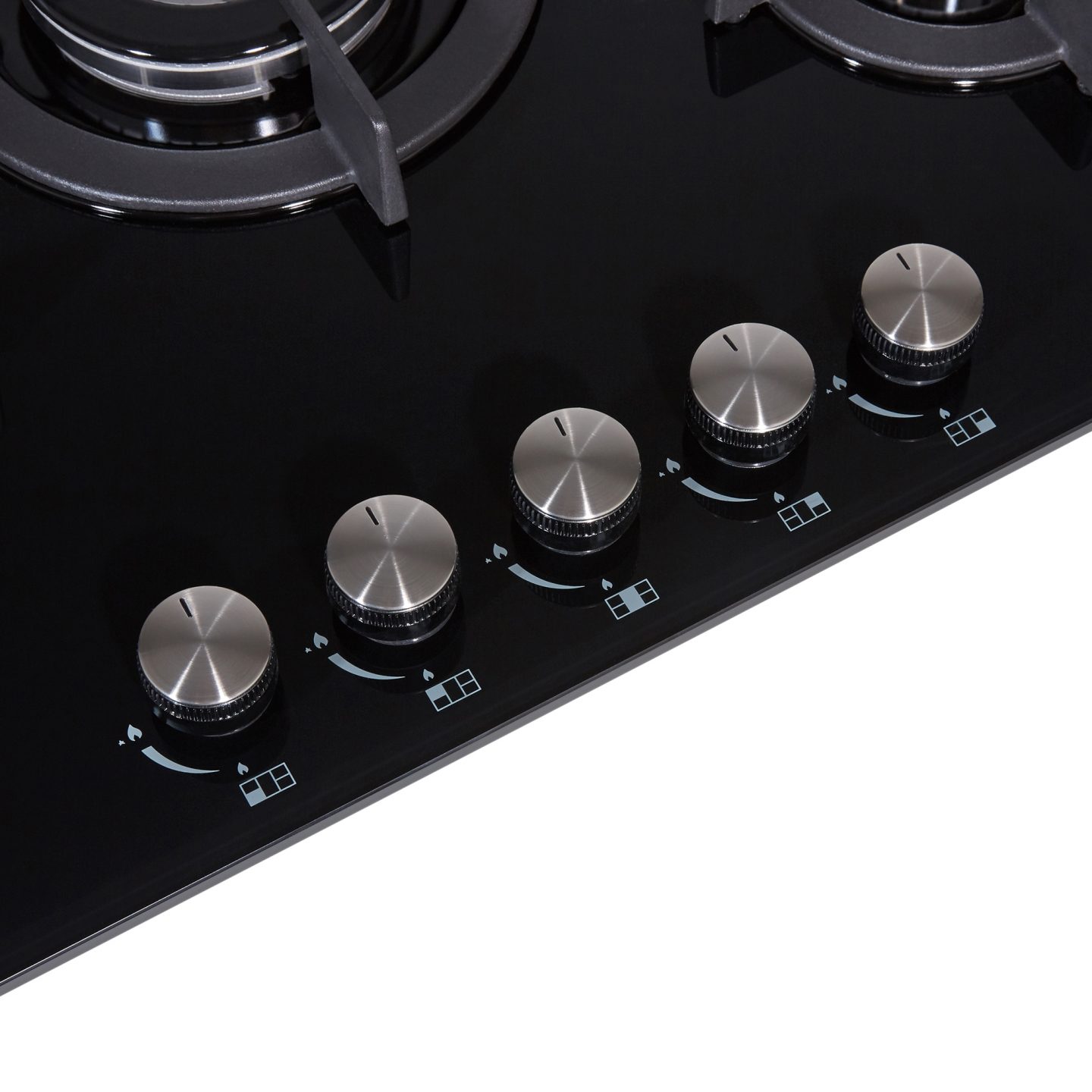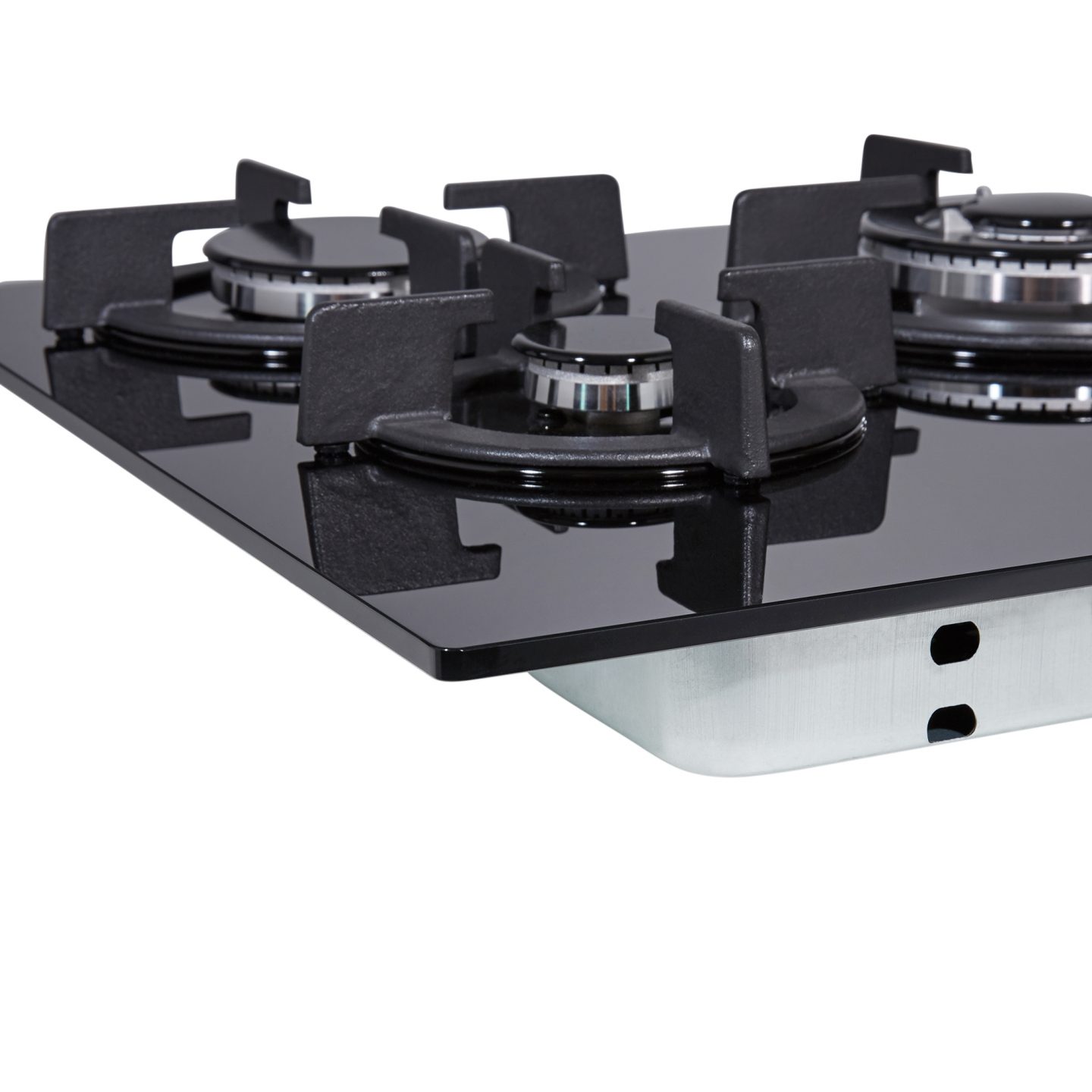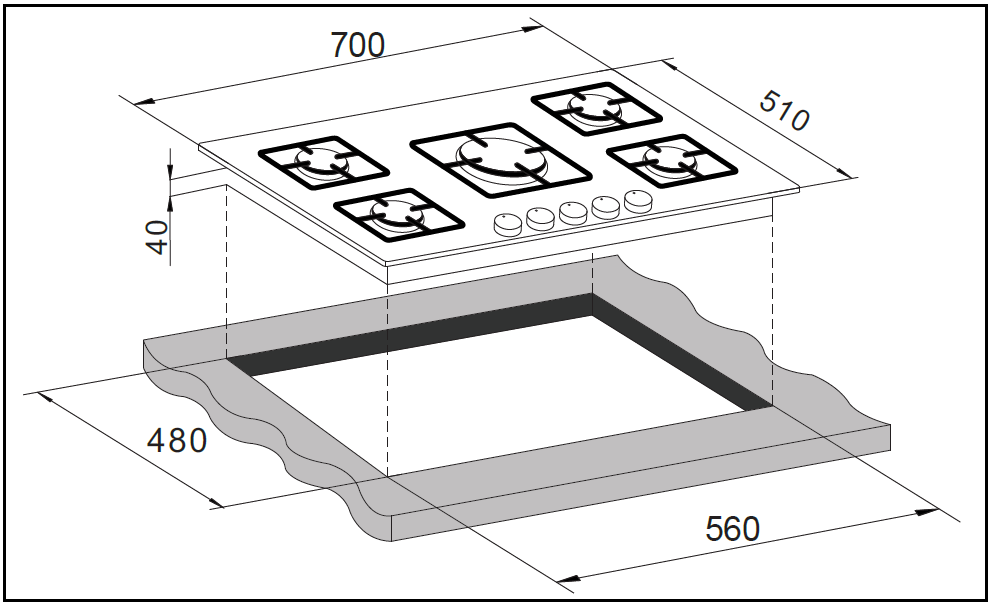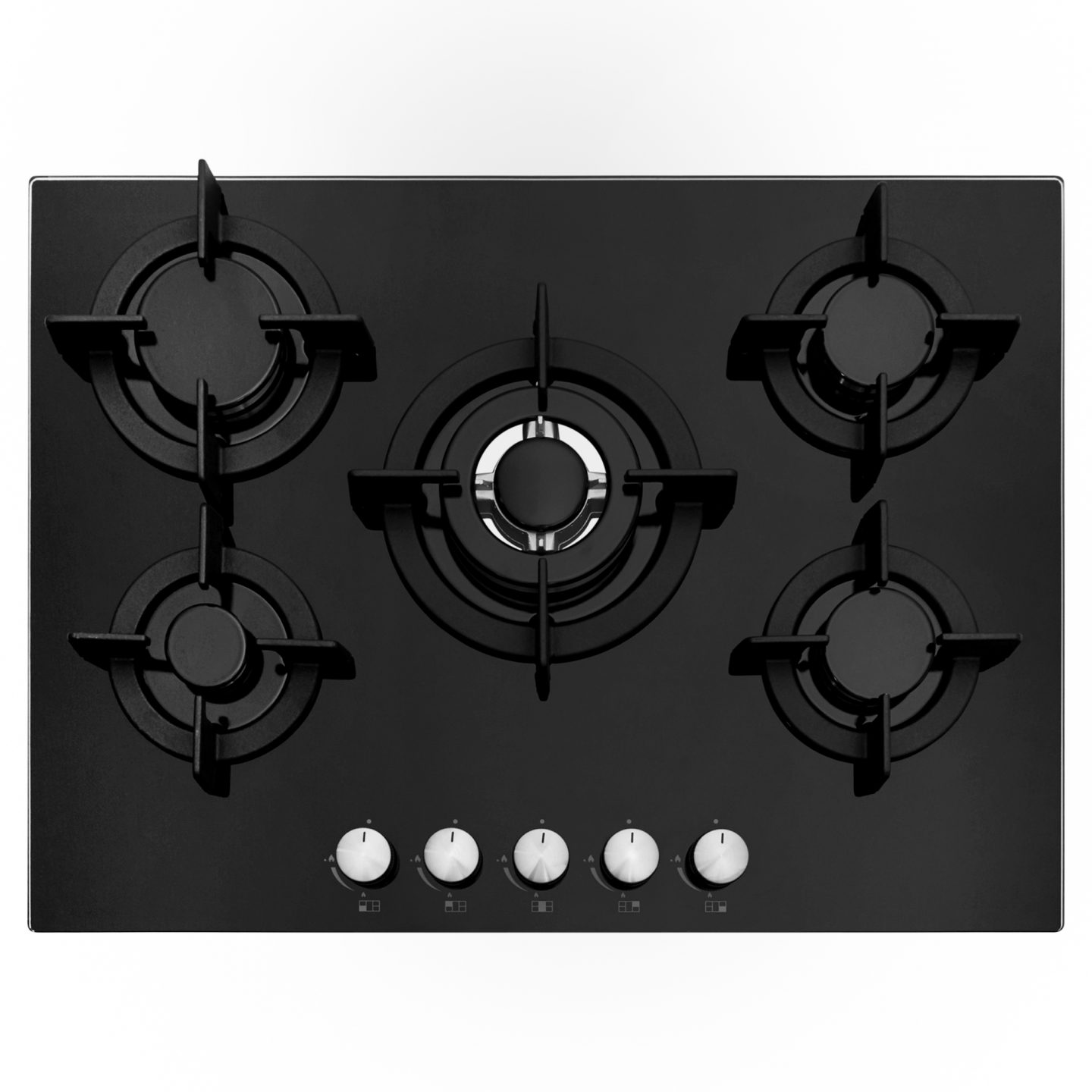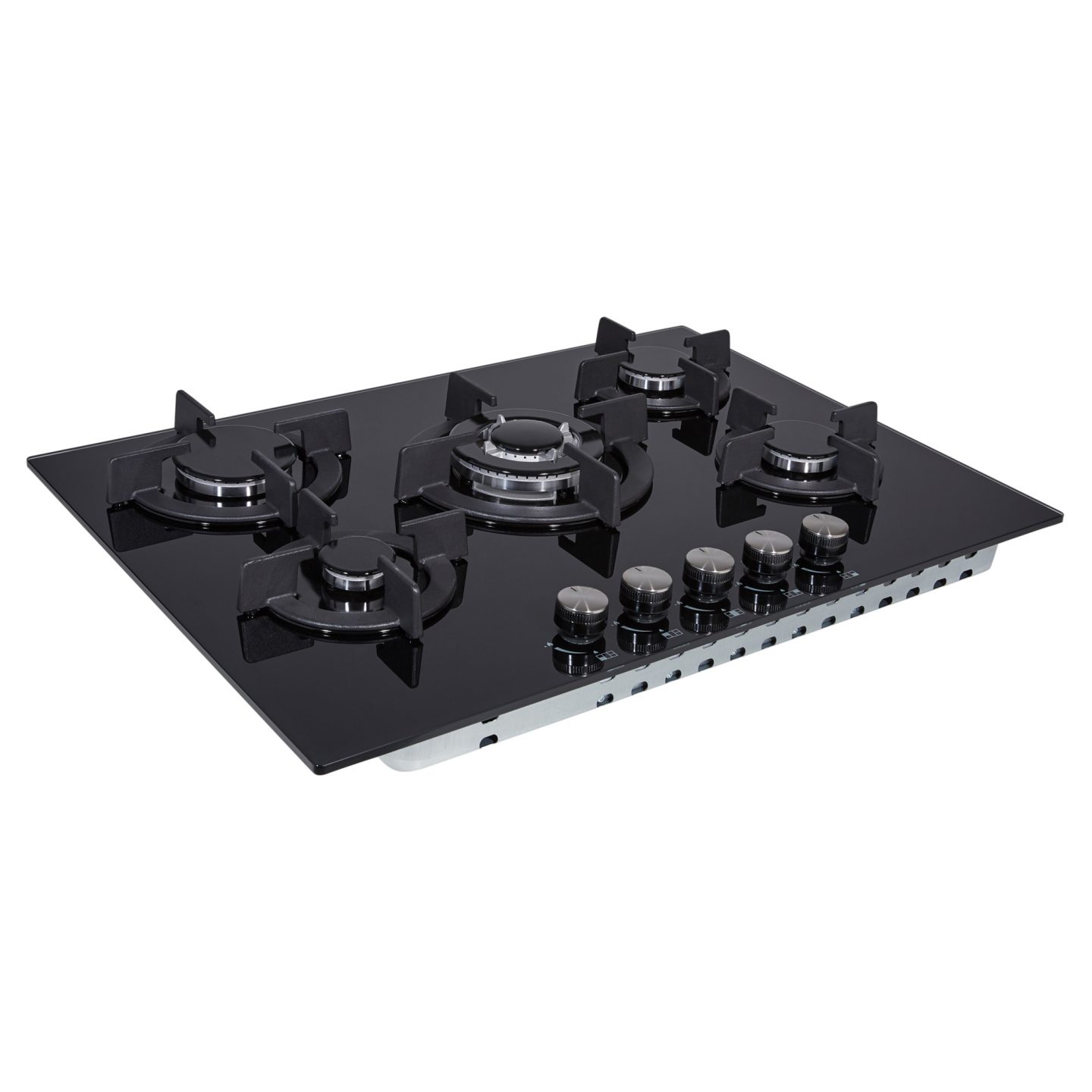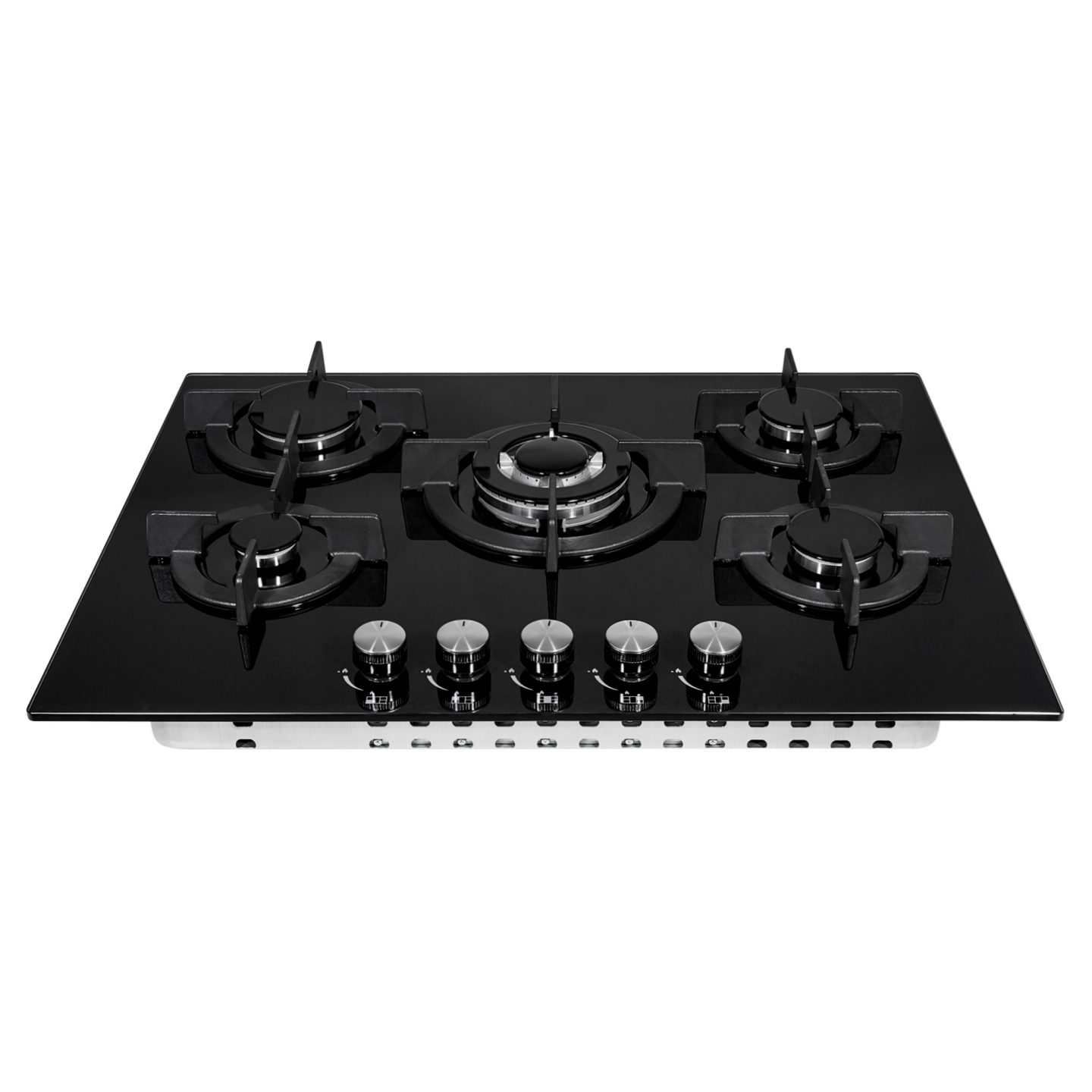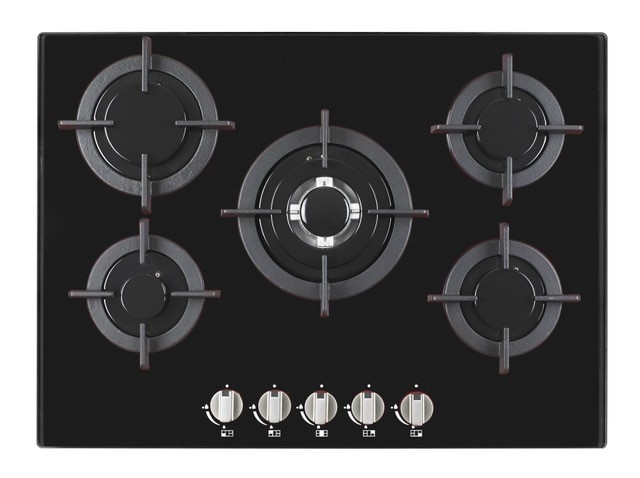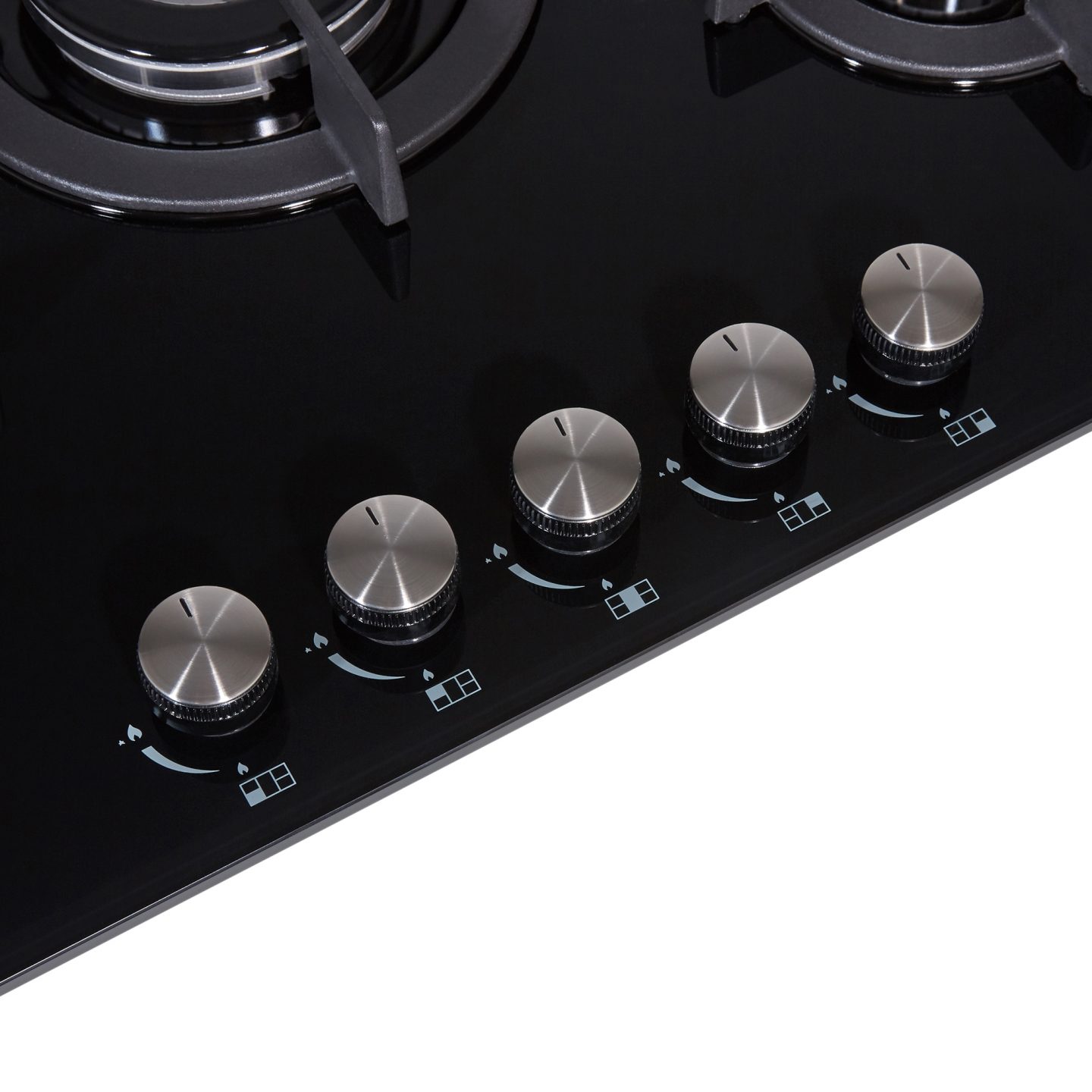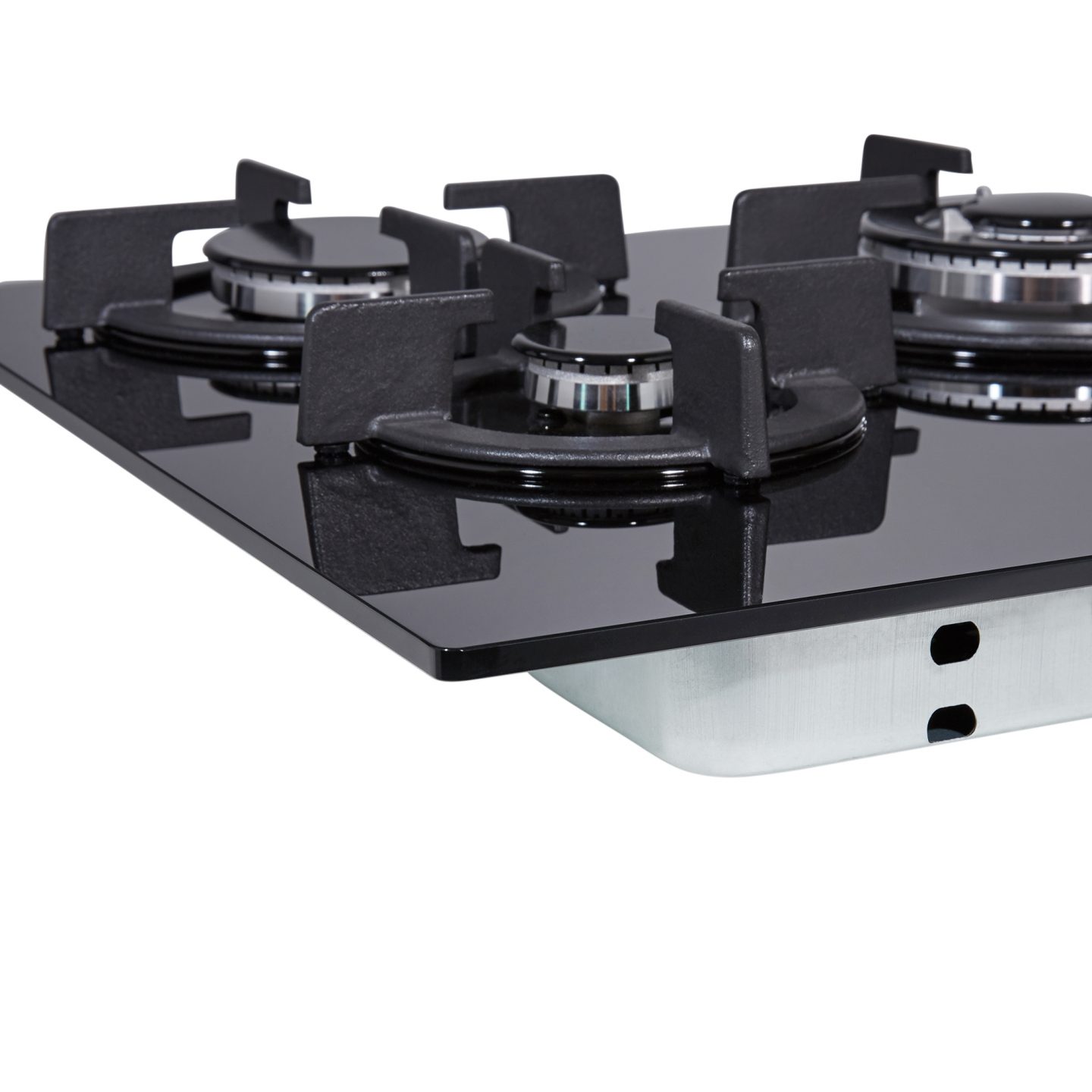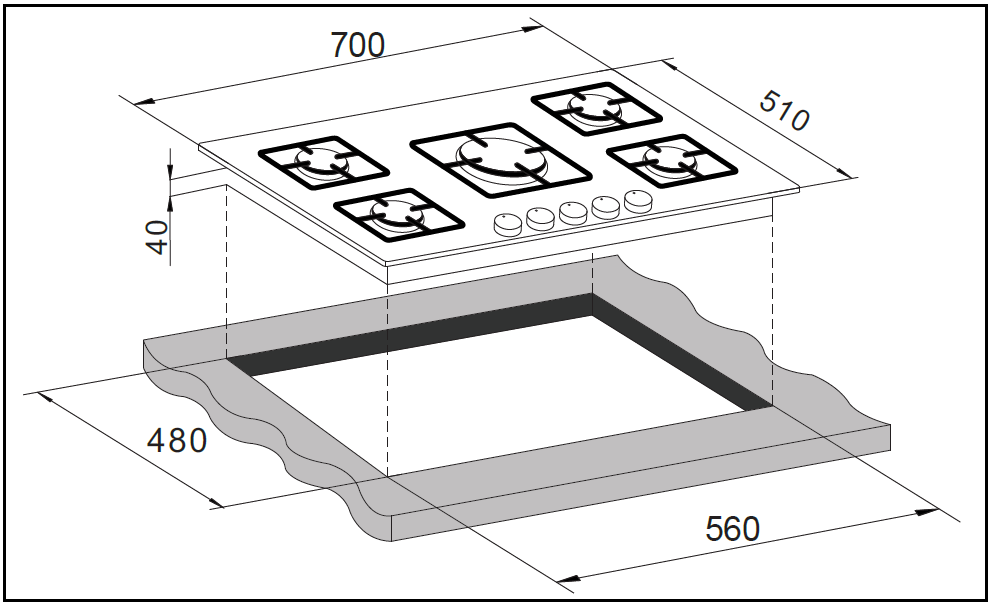 Cookology GGH705BK 77cm Gas on Glass Hob with cast iron supports
Order now for estimated delivery 7th - 11th July
In stock at our warehouse now
Free delivery when you order today
Cookology GGH705BK 70cm Gas-on-Glass Hob in Black with Cast Iron Pan Supports

Instantly give your kitchen a sleek, stylish look and feel with this high quality black gas hob 5 burner by Cookology.

A Gas on Glass Hob gives you all the benefits of cooking with Gas such as speed, flair and responsiveness – as well as a stylish, easy to clean Ceramic surface.

Naturally with such a Modern Hob, you don't want to be using Matches and Burning your Fingers and thanks to Auto-Ignition you won't have to! Simply twist the Rotary Controls and the Burner will Ignite.

Each of the 5 burners comes fitted with an FFD / FSD (flame failure device / flame supervision device) – this ensures that if an over boiling pan or a sudden gust of wind were to extinguish a flame, the gas would shut off automatically. Not only is this a legal requirement in certain buildings, it's genuinely a life saver.

Features:

70cm wide glass hob
8mm Black glass hob plate
5 X burners
1.0m power cord (without plug)
Matt burner caps
Cast iron pan supports
Injector conversion kit
Front knob controls
x 1 Aux burner 1.0kW
x 2 Semi-rapid burner 1.75kW
x 1 Rapid burner 3.0kW
x 1 Wok burner 3.5W

Technical Specifications:

Energy efficiency: EE gas hob > 54
Weight: Net: 16.5kg Gross: 17.58kg

READ MORE

Each of the 5 burners comes fitted with an FFD / FSD
Gas-on-Glass Hob in Black with Cast Iron Pan Supports
Create your own custom product bundles
Cookology products are designed to look amazing together. You can build your personalised bundle by adding a product from each category and getting a discount on the whole lot.
Product Description
Cookology GGH705BK 70cm Gas-on-Glass Hob in Black with Cast Iron Pan Supports
Instantly give your kitchen a sleek, stylish look and feel with this high quality black gas hob 5 burner by Cookology.
A Gas on Glass Hob gives you all the benefits of cooking with Gas such as speed, flair and responsiveness – as well as a stylish, easy to clean Ceramic surface.
Naturally with such a Modern Hob, you don't want to be using Matches and Burning your Fingers and thanks to Auto-Ignition you won't have to! Simply twist the Rotary Controls and the Burner will Ignite.
Each of the 5 burners comes fitted with an FFD / FSD (flame failure device / flame supervision device) – this ensures that if an over boiling pan or a sudden gust of wind were to extinguish a flame, the gas would shut off automatically. Not only is this a legal requirement in certain buildings, it's genuinely a life saver.
Features:
70cm wide glass hob
8mm Black glass hob plate
5 X burners
1.0m power cord (without plug)
Matt burner caps
Cast iron pan supports
Injector conversion kit
Front knob controls
x 1 Aux burner 1.0kW
x 2 Semi-rapid burner 1.75kW
x 1 Rapid burner 3.0kW
x 1 Wok burner 3.5W
Technical Specifications:
Energy efficiency: EE gas hob > 54
Weight: Net: 16.5kg Gross: 17.58kg
Product Specification
Dimensions
510 × 40 × 700 mm
Product Downloads
Can't quite find what you're looking for?
If you can't find the document that you're looking for, our team will be happy to help. Drop us an email, give us a call or open up a chat, and we'll do everything we can to help!
HELP CENTRE
Delivery and Returns
Free next day delivery
Free arranged delivery, 5-7 working days
Must be signed for
Free Home Delivery Service
Appliances may be brought into your home at the Driver's discretion, providing access is not an issue
The Delivery Company will contact you to book in the delivery
30 day returns policy
We offer a simple, no fuss returns policy:
STEP 1 – Make sure you do not install and or use the item and keep all the packaging
STEP 2 – Simply let us know via Email within 30 days of receipt/delivery that you wish to return the item by Emailing: [email protected]
STEP 3 – We'll give you instructions and a Returns number that you need to write on a piece of paper and stick to the outside of the box (DO NOT WRITE ON THE BOX PLEASE)
STEP 4 – Track the item and when you can see it has arrived get in touch. Once we have checked it to make sure it is still brand new and can be sold as brand new we will refund you in full….That's it!
Damaged items Policy
Our appliances are carefully & professionally picked and packed and the couriers we use take great care to make sure items arrive in pristine condition. However, on occasion damages will happen. To help us get any issues resolved as quickly as possible, please make sure you follow the following instructions:
STEP 1 – Report damage and send photos to [email protected] within 48 hours of delivery
STEP 2 – Do not install the items, this will invalidate a claim and could be dangerous