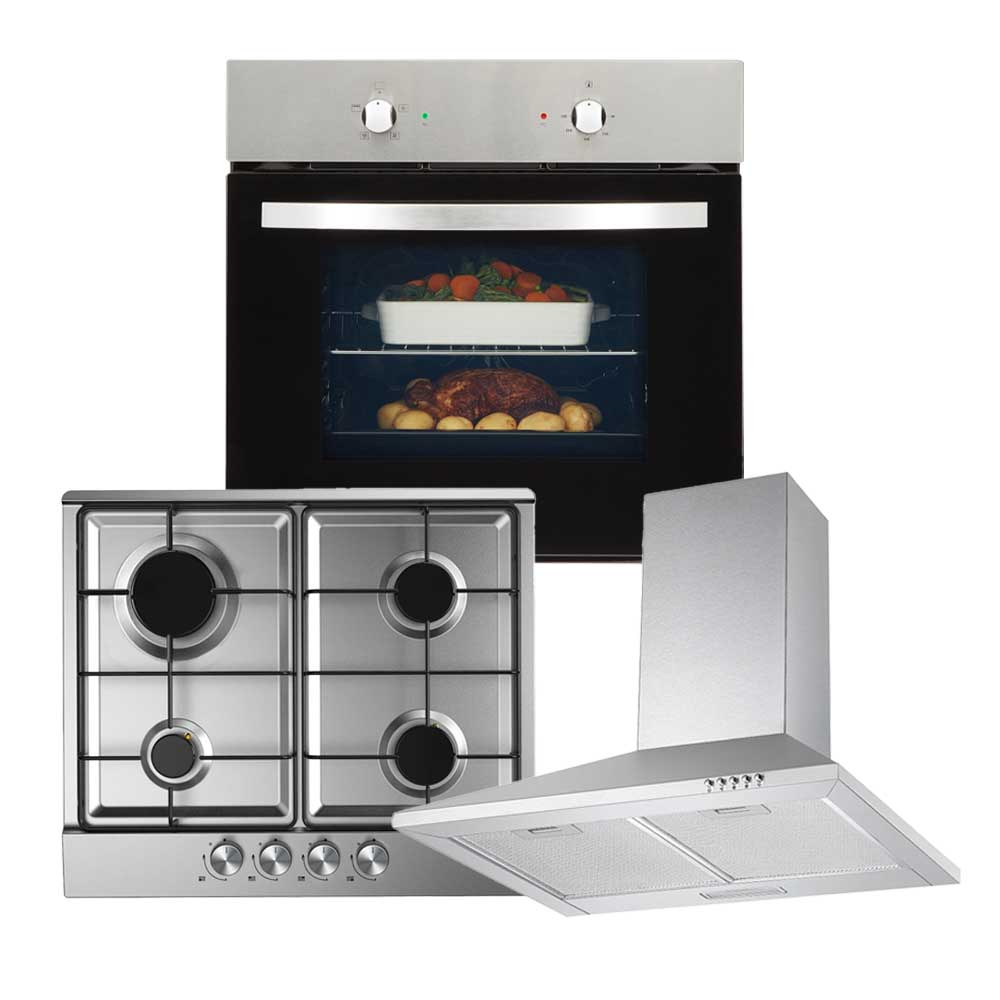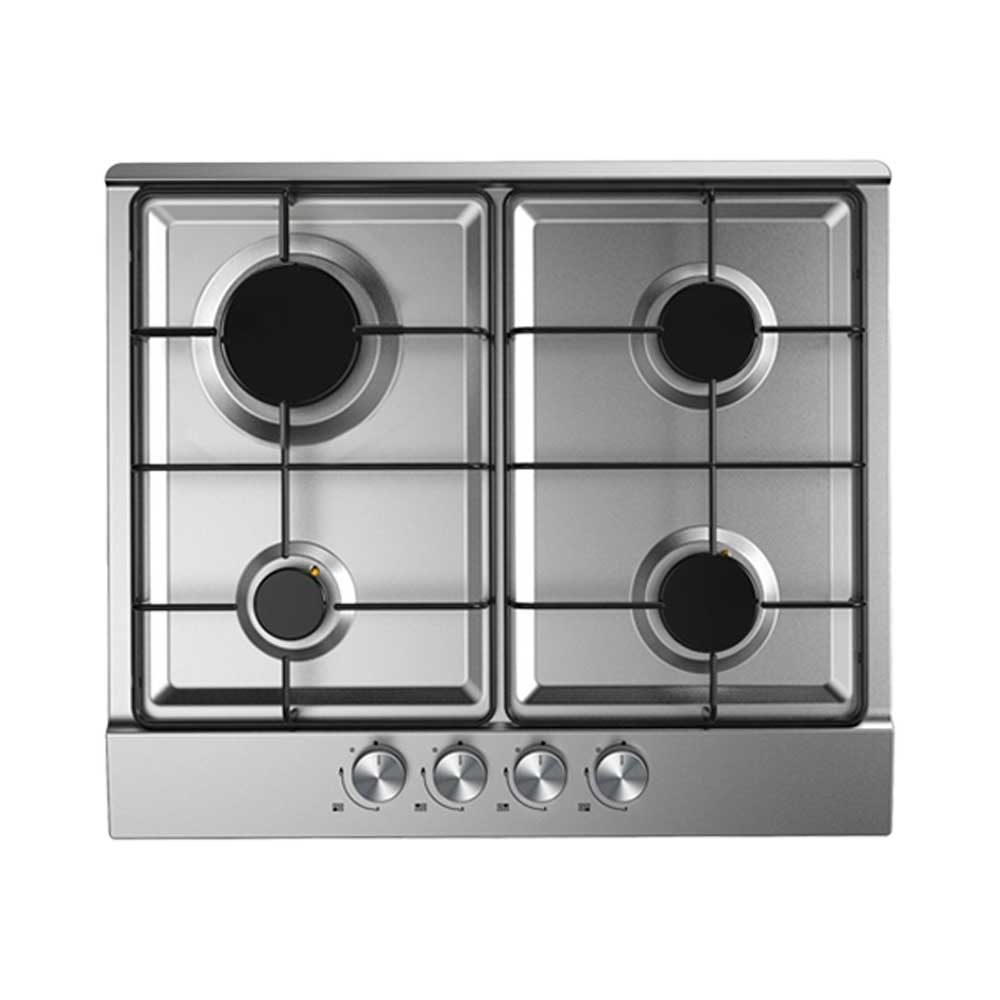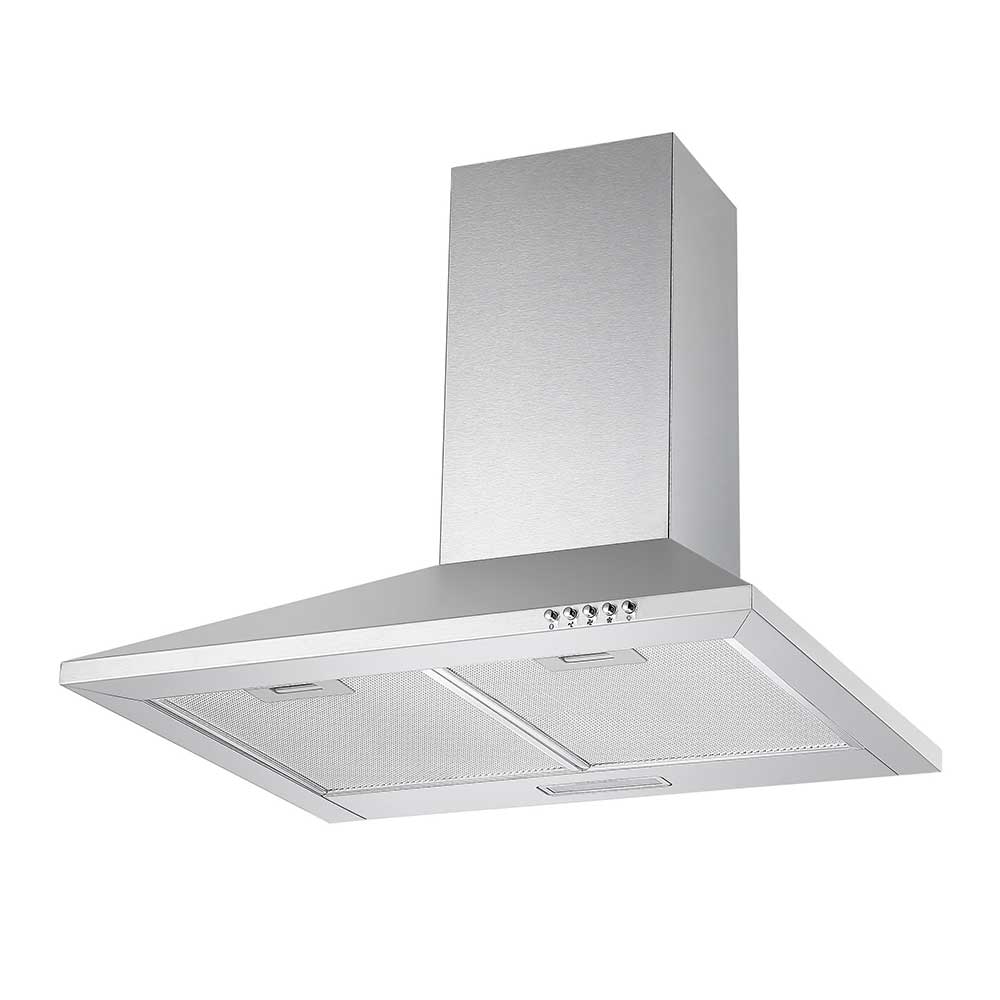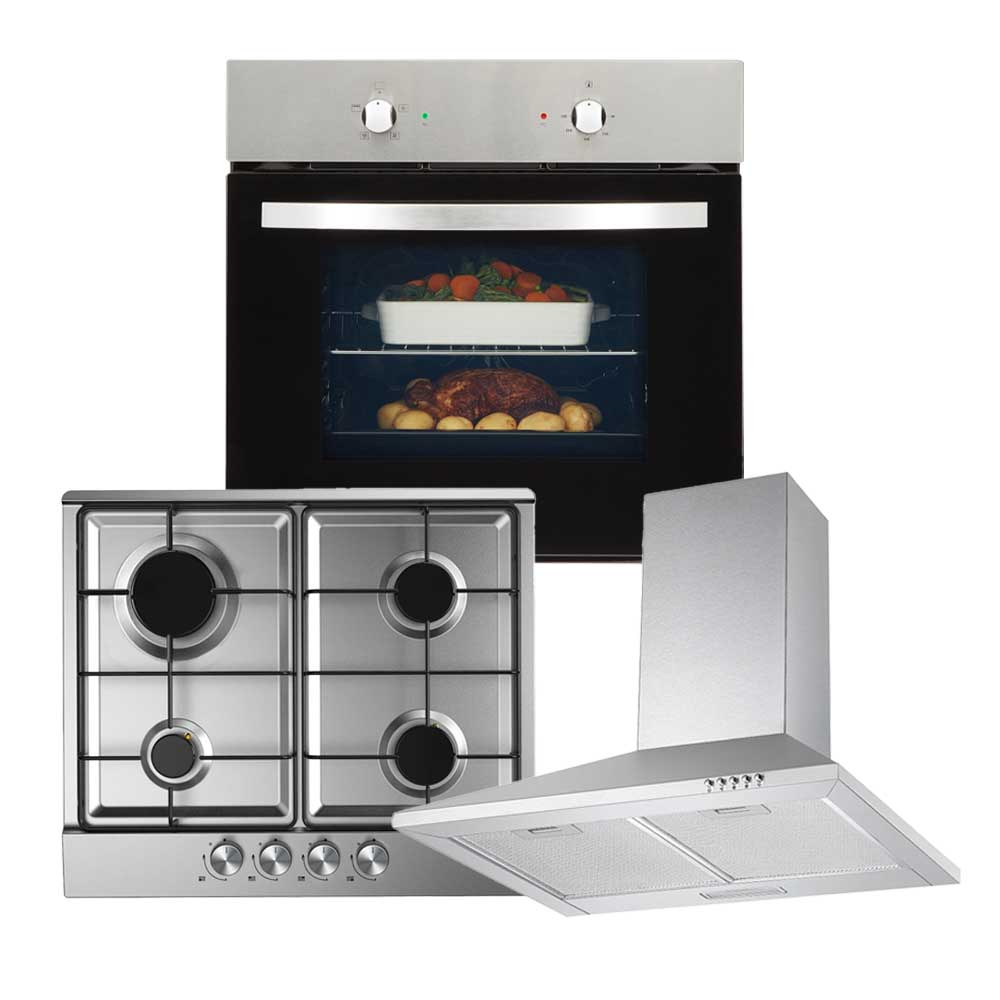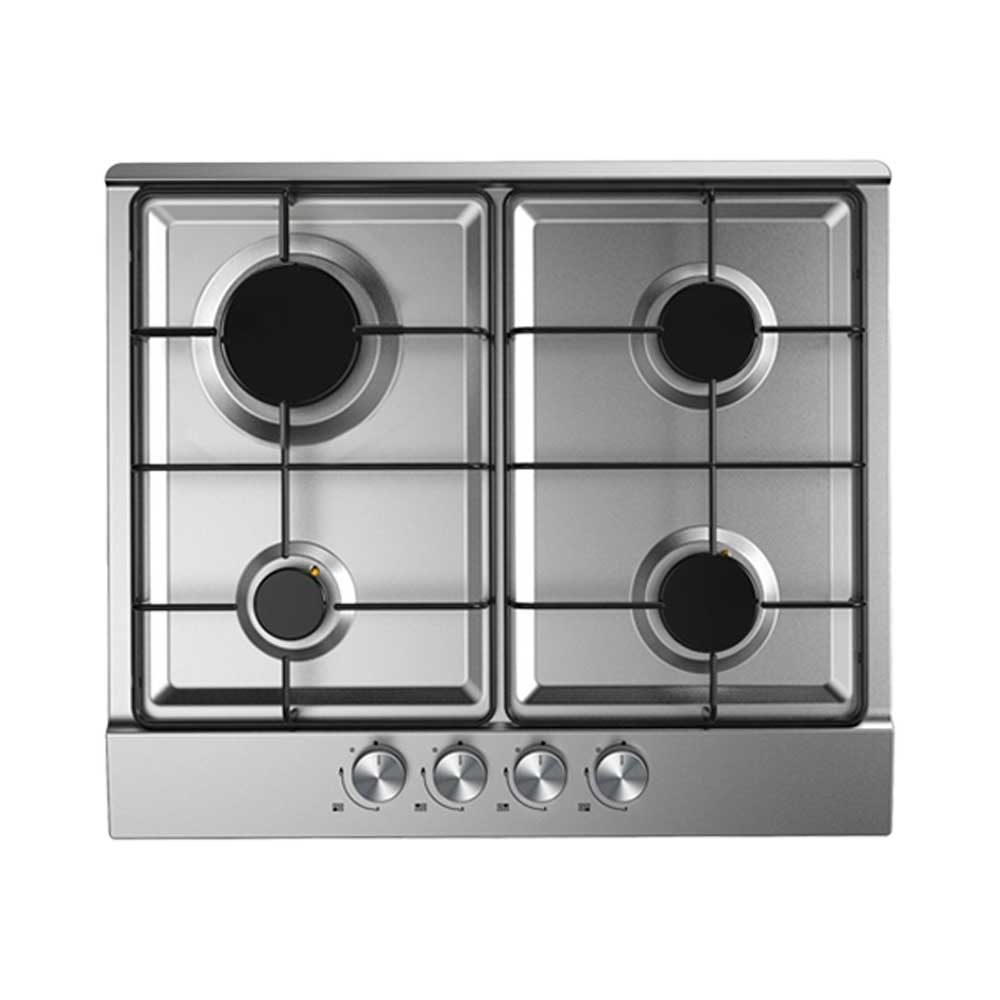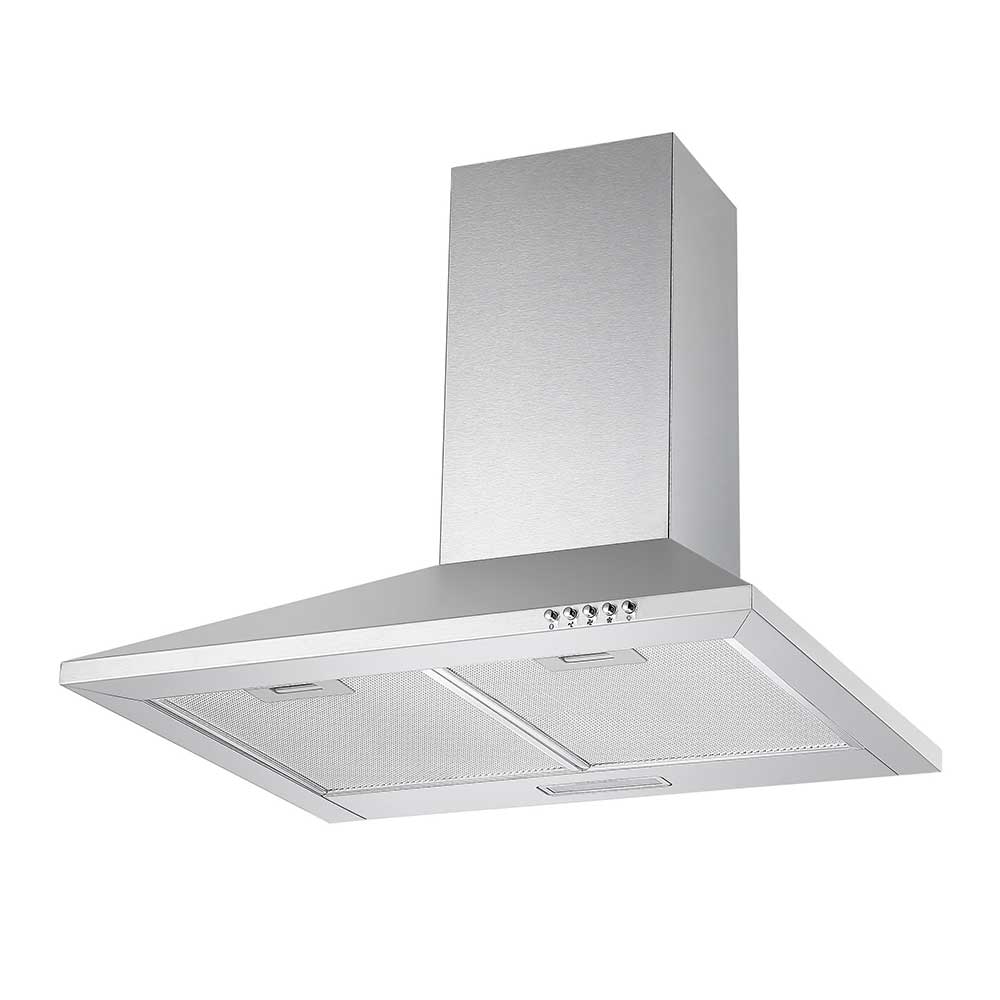 Cookology Fan Forced Oven, Gas Hob & 60cm Chimney Hood Pack – Stainless Steel
Model:
SFO57SS GH600SS CH600SS
Free delivery when you order today
Sign up to be notified when the item is back in stock!
Key Features
This is our cheapest Fan Oven, Gas Hob & Chimney Hood pack
The Hob is our best selling Gas Hob, popular because of its reliability and simplicity
The Oven is a reliable and simple Fan Oven
Both the Oven and the Hob fit standard kitchen cavities - check the images for technical drawings
The Cooker Hood features 3 speeds, washable grease filters and the air can be vented outside or recirculated
Read more
Product Description
Cookology SFO57SS 60cm Built-in Single Electric Fan Oven in Stainless Steel
Cookology has now developed the SFO57SS, a single electric fan oven designed to be simple to operate, energy efficient and easy to install. You build this oven into a single oven cavity in your kitchen. This can be either an under-counter cavity or an eye-level cavity. Being 2.4kW means you can fit a plug to this oven without needing to hard-wire if you don't want to. You get a choice of several functions including Defrost, where the only the fan is on so that frozen food defrosts faster; Grill; a light function that illuminates the oven without any heat, which is ideal for cleaning and fan oven. Being a Fan Oven gives you loads of advantages over conventional cooking. For instance it means you can cook on several shelves at once, the oven gets hot very quickly so you do not need ages to pre-heat and the heat is distributed evenly through-out the cavity.
Features:
Oven Type: Fan Oven
Max Temperature: 250°C
Oven Light x 1
Energy source: Electric Oven
Finish: Stainless Steel Fascia & Handle, Black Glass Door
Installation: Built-in or Built-under
Controls: 1 x temperature control, 1 x function control
Connection: 13AMP (this means you can attach a standard UK plug but no plug comes attached)
Capacity – 51 Litres
Functions:
Oven Lamp: Useful when you need visibility but no heat such as when cleaning
Convection mode: This is your standard Fan function, the oven will heat up very quickly and you can cook on several shelves at once because the heat is distributed evenly
Grill: Great for finishing off a Lasagne or getting Crispy bacon
Defrost mode: This function pushes air around at room temperature, speeding up the Defrost time
Accessories:
1 x GRSFO1 Wire Shelf
1 x ETSFO1 Enamel Shelf
Additional Shelves and wire racks available to purchase
Cleaning:
Removable Oven Door
Easy Clean Enamel
Technical details:
CE CERTIFIED and Energy Rating A+
13 AMP / Power Cable: 100cm
0.62kWh/cycle / Electrical power: 2.4kW
Rated Voltage: 220-240V (standard UK Voltage) / Rated Frequency: 50/60Hz
Dimensions:
Product Dimensions – Height: 590mm / Width: 595mm / Depth: 550mm + 22mm fascia
Cavity Dimensions – Width: 560mm / Cavity Height: 580-583mm / Cavity Depth: min 550mm
Packaging Dimensions – 660x 660 x 610mm
Weight:
Gross Weight: 33Kg / Net Weight (without packaging): 30Kg
---
Cookology GH600SS Built-in Gas Hob in Stainless Steel
The GH600SS is a Stainless Steel Gas Hob with Elegant Enamelled Pan Supports, Chunky Controls at the front and 4 Burners. Gas Hobs are very popular among Professional Chefs because the flames transfer their heat almost immediately to your pots & pans so you save time. They also lose heat more quickly, so you're less likely to boil over or burn your food. Unlike electric hobs, you can also lift your pans above the flames without losing too much heat, allowing you to toss your ingredients. Naturally you don't want to be using matches and burning your fingers when cooking on your new hob which is why you get Auto-Ignition with the GH600SS so all you have to do is twist and push the Rotary Controls and the Burners will Ignite. Each of the 4 burners comes fitted with an FFD / FSD (flame failure device / flame supervision device) – this ensures that if an over boiling pan or a sudden gust of wind were to extinguish a flame, the gas would shut off automatically. Not only is this a legal requirement in certain buildings, it's genuinely a life saver. Like this Hob? Why not get a New, Stylish Cooker Hood to accompany it?
Stainless Steel Gas Hob Features:
4 Burners
Stainless Steel Surface
FFD / FSD Fitted to Each Burner
Rotary Controls with Auto-Ignition
Enamel Pan Stands
Technical Specifications:
Needs to be installed by a Professional Gas Fitter
Total Power : 7500W
Rapid Wok Burner: 3.0 kW / Semi Rapid Burners x 2: 1.75kW
Auxiliary Burner: 1.0 kW
Fuel:
Natural Gas – LPG JETS INCLUDED
This Hob can be converted by a Qualified Person to run off Bottled Gas (LPG)
Dimensions:
Product Dimensions – Width: 590mm / Depth: 510mm
Hob Cut Out Size – Width: 560mm  /Depth: 490mm
---
Cookology 60cm Chimney Cooker Hood in Stainless Steel
This simple yet stylish Chimney Cooker Hood dramatically improves the look and feel of your kitchen. It features an extendable stainless steel chimney that adjusts to reach your ceiling, and its simple design means it won't conflict with existing branding or furniture. You get a bright 2.5W LED light strip that compliments the Stainless Steel finish and helps improve visibility around your kitchen and cooking area. The extraction rate of 450m3/hour rivals some of our top brands, thanks in part to the 150mm ducting hole on top of the motor that allows more air to flow resulting in a cleaner, fresher kitchen, free of lingering food smells. The Aluminium Grease Filters are washable and are designed to trap grease and grime that would normally end up on your units and appliances. By washing these regularly you can maintain a high level of hygiene and performance. This Cooker Hood can be Ducted outside via an Optional DK1M150 Ducting Kit or if you do not have access to an outside wall you can Recirculate the air back in your kitchen using Optional CF100 Carbon Filters to remove smells and clean the air.
Features:
2.5 W LED Lighting
3 Speeds
2 x Aluminium Washable Grease Filters
60cm wide
Installation:
Recirculation possible with CF100 Carbon Filters (not included in this listing)
Ducting outside possible with DK1M150 150mm Ducting Kit (not included in this listing)
Easy to Install and comes complete with UK Plug and Cable attached
Performance:
Noise: 63dB
C Energy Rating
450m3/hour extraction rate
Dimensions:
Width: 600mm / Depth: 475mm  /Height: Adjustable between 580mm – 850mm
Technical Specification
Product Details
| | |
| --- | --- |
| Colour | Stainless Steel |
| Brand | Cookology |
| Warranty | 1 Year |
Dimensions
Product Details
| | |
| --- | --- |
| Colour | Stainless Steel |
| Brand | Cookology |
| Warranty | 1 Year |
Care & Maintenance
Can't quite find what you're looking for?
If you can't find the document that you're looking for, our team will be happy to help. Drop us an email, give us a call or open up a chat, and we'll do everything we can to help!
HELP CENTRE
Delivery and Returns
FREE Delivery Services
Free arranged delivery – 7-10 working days
Must be signed for
Free Home Delivery Service
Appliances may be brought into your home at the Driver's discretion, providing access is not an issue
The Delivery Company will contact you to book in the delivery
30 Day Returns Policy
We offer a simple, no fuss returns policy:
STEP 1 – Make sure you do not install and or use the item and keep all the packaging
STEP 2 – Simply let us know via Email within 30 days of receipt/delivery that you wish to return the item by Emailing: help@cookology.com
STEP 3 – We'll give you instructions and a Returns number that you need to write on a piece of paper and stick to the outside of the box (DO NOT WRITE ON THE BOX PLEASE)
STEP 4 – Track the item and when you can see it has arrived get in touch. Once we have checked it to make sure it is still brand new and can be sold as brand new we will refund you in full….That's it!
Damaged Items Policy
Our appliances are carefully & professionally picked and packed and the couriers we use take great care to make sure items arrive in pristine condition. However, on occasion damages will happen. To help us get any issues resolved as quickly as possible, please make sure you follow the following instructions:
STEP 1 – Report damage and send photos to help@cookology.com within 48 hours of delivery
STEP 2 – Do not install the items, this will invalidate a claim and could be dangerous
Create your own custom product bundles
Cookology products are designed to look amazing together. You can build your personalised bundle by adding a product from each category and getting a discount on the whole lot.