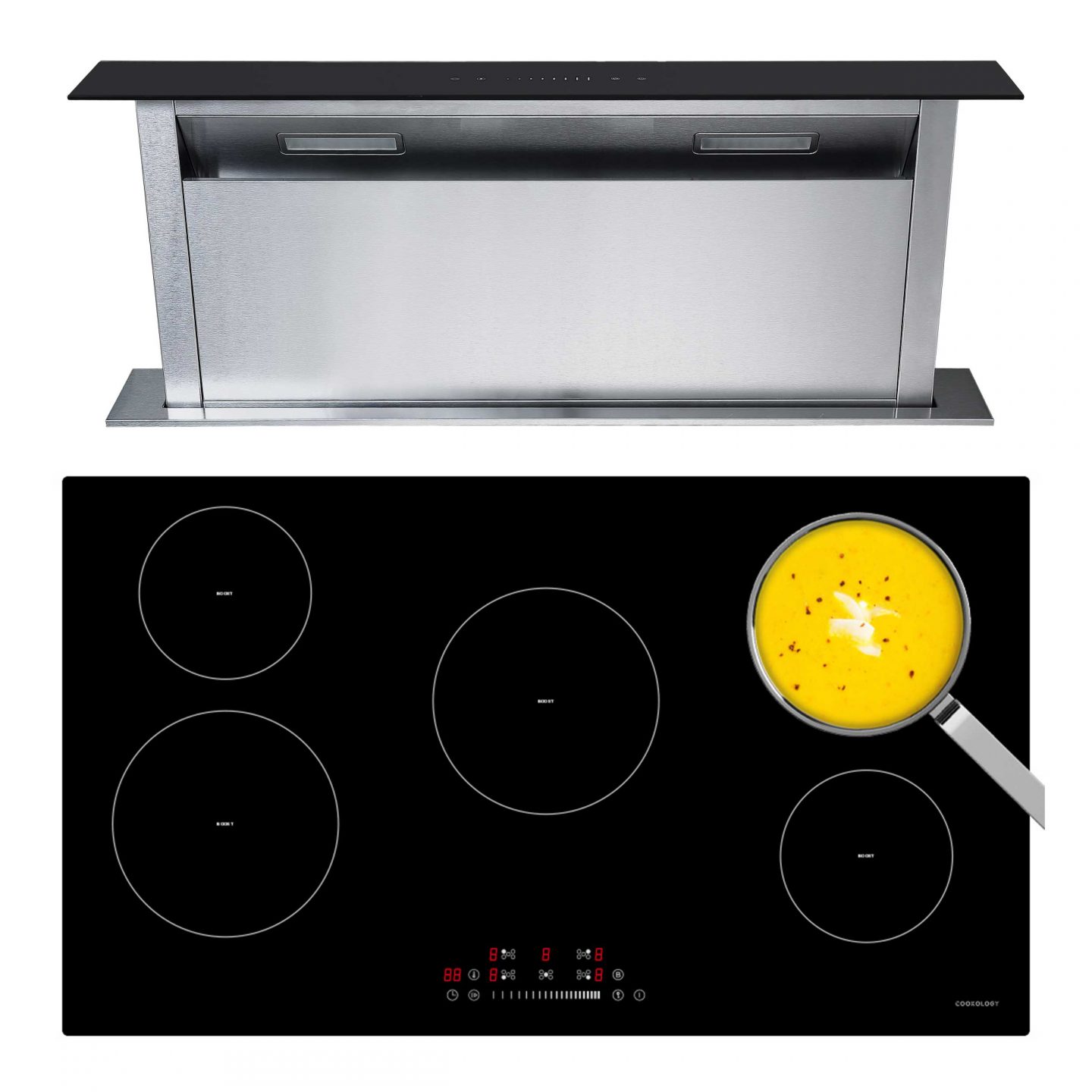 Cookology 90cm Touch Control Induction Hob & Downdraft Extractor Fan Pack
Free delivery when you order today
Sign up to be notified when the item is back in stock!
Key Features
Fantastic quality Induction Hob and Extractor pack for a high-end kitchen
The 90cm width means your pots and pans have plenty of space
Cook like a Pro with 5 Induction Zones that heat-up and cool down almost instantly
The downdraft extractor fan sits hidden in your worktop and comes up on demand
Powerful extraction rate
Read more
Product Description
Cookology 90cm Induction Hob with 5 Burners – Black
Keep warm – It allows you to keep your soups, sauces and even cheese or chocolate fondues warm without burning~
Pause – If you need to pause cooking, the practical pause function turns off the hob, simultaneously storing all of its settings. Once cancel pause function, restoring the previous settings of the ceramic heating zones.
Timer – This function allows you to set the cooking time(max 99min.) for each individual part of your hob, which makes it easier than ever to prepare several dishes at once. When the time expires, the zone switched off and alerts you with an aural signal. The timer function can also be used as a simple minute reminder, reminding you when the time you set is up instead of going off.
Residual heat indicator – The residual heat indicator alerts you that the heating zone is still hot even though it has been turned off. This function allows you to cook safety and prevent accidents.
Child lock – Your Children will never manage to switch on the kitchen induction hob on their own, and the heating zones will not turn on before a vessel is placed on them
Sensitive slider control – Continuous power adjustment has replaced the previous step-by-step method. The advanced feature simplifies operation and makes cooking a more convenient experience. Just touch the slider to set the desired heating power level.5 x booster– The booster function allows you to increase the heating power in the zones so the meals are prepared quickly and retain more nutritional value. 5 x booster means that all of 5 cooking zones have booster function.
Hob Functions
| | |
| --- | --- |
| Automatic Safety Switch Off | 120mins |
| Controls Type | Slider Touch Control |
| Function Timer (mins) | 99mins |
| Heating System | Electric |
| Pan Stand Material | Cast Iron, Enamelled Steel, Special Induction compatible Cookware made from Stainless Steel |
| Pan Stands Included | Ferromagnetic Cookware |
| Power Levels | 9 |
| Residual Heat Indicator | H |
| Surface Material | Ceramic Glass |
| Child Lock | Yes |
Dimensions
| | |
| --- | --- |
| Product Width (mm) | 900 |
| Product Depth (mm) | 520 |
| Weight (kg) | 14.8 |
---
Cookology 90cm Downdraft Kitchen Cooker Hood Extractor Fan – includes Motor
The Kitchen Extractor Fan is a Sleek, Cutting Edge Downdraft Cooker Hood that will impress any guests with its gorgeous design, high quality build and professional performance. A Downdraft Cooker Hood gets built into your Kitchen counter design. When its not being used, all you see is a flat, elegant strip of Black glass with Touch Controls that looks great next to a Black Ceramic or Induction Hob. (It cannot be installed next to a gas hob). When holding your finger for 2 seconds on the touch controls, the 90cm cooker hood elegantly rises up, and starts extracting smoke and smells to keep your kitchen smelling fresh and prevent grease and grime from Building up over your units whilst cooking. The design also benefits from the LED Lighting that bathes your cooking area in a cool, white light, adding a touch of class to a modern kitchen – with this Downdraft Island Extractor you can also adjust the intensity of the LED Lights using the touch controls and create the right ambience in your kitchen.
Energy and Performance
| | |
| --- | --- |
| Energy Rating | D |
| Power | 192W |
| Frequency (Hz) | 50Hz |
| Noise Rating (dB) | 67 |
| Energy Consumption (kWh/Year) | 92 |
Cooker Hood Extraction
| | |
| --- | --- |
| Extracting Ducting Included | No |
| Extracting Ducting Required | Yes |
| Extraction Rate m3 h | 538.5 |
| Number of Extraction Speeds | 4 |
| Recirculating Filters Required | Yes |
| Recirculating Filters Included | No |
Dimensions
| | |
| --- | --- |
| Product Height (mm) | 718-1073 |
| Product Width (mm) | 880 |
| Product Depth (mm) | 115 |
| Weight (kg) | 28.5 |
This product needs to be fitted by a qualified electrician to verify your warranty.
Technical Specification
Product Details
| | |
| --- | --- |
| Material | Black Glass, Stainless Steel |
| Colour | Black |
| Brand | Cookology |
| Warranty | 1 Year |
Dimensions
| | |
| --- | --- |
| Product Height (mm) | SEE DESCRIPTION FOR ALL DETAILS |
Dimensions
Product Details
| | |
| --- | --- |
| Material | Black Glass, Stainless Steel |
| Colour | Black |
| Brand | Cookology |
| Warranty | 1 Year |
Dimensions
| | |
| --- | --- |
| Product Height (mm) | SEE DESCRIPTION FOR ALL DETAILS |
Care & Maintenance
Can't quite find what you're looking for?
If you can't find the document that you're looking for, our team will be happy to help. Drop us an email, give us a call or open up a chat, and we'll do everything we can to help!
HELP CENTRE
Delivery and Returns
FREE Delivery Services
Free arranged delivery – 7-10 working days
Must be signed for
Free Home Delivery Service
Appliances may be brought into your home at the Driver's discretion, providing access is not an issue
The Delivery Company will contact you to book in the delivery
30 Day Returns Policy
We offer a simple, no fuss returns policy:
STEP 1 – Make sure you do not install and or use the item and keep all the packaging
STEP 2 – Simply let us know via Email within 30 days of receipt/delivery that you wish to return the item by Emailing: help@cookology.com
STEP 3 – We'll give you instructions and a Returns number that you need to write on a piece of paper and stick to the outside of the box (DO NOT WRITE ON THE BOX PLEASE)
STEP 4 – Track the item and when you can see it has arrived get in touch. Once we have checked it to make sure it is still brand new and can be sold as brand new we will refund you in full….That's it!
Damaged Items Policy
Our appliances are carefully & professionally picked and packed and the couriers we use take great care to make sure items arrive in pristine condition. However, on occasion damages will happen. To help us get any issues resolved as quickly as possible, please make sure you follow the following instructions:
STEP 1 – Report damage and send photos to help@cookology.com within 48 hours of delivery
STEP 2 – Do not install the items, this will invalidate a claim and could be dangerous
Create your own custom product bundles
Cookology products are designed to look amazing together. You can build your personalised bundle by adding a product from each category and getting a discount on the whole lot.