Fridge freezers are one of the most essential appliances in any home. They keep our food fresh and cold, and they can also be used to freeze food for later use. But with so many different types of fridge freezers on the market, it can be hard to know which one is right for you.
In this article, we will discuss the different types of fridge freezers available, as well as the factors you need to consider when choosing one. We will also provide some tips on how to get the most out of your fridge freezer.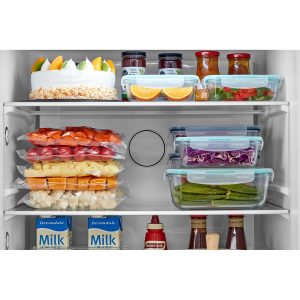 There are five main types of fridge freezers
When choosing a fridge freezer, there are a few factors you need to consider
Size: How much space do you have in your kitchen?
Capacity: How much food do you need to store?
Features: What features are important to you, such as an ice maker or water dispenser?
Energy Efficiency: Energy efficiency is an important consideration when choosing a fridge freezer. The more energy efficient the fridge freezer, the lower your energy bills will be. Look for a fridge freezer with an energy rating of A or above. You can find the energy rating on the energy label, which is usually displayed on the front of the fridge freezer.
Price: Fridge freezers can range in price from a few hundred pounds to several thousand pounds. It is important to set a budget before you start shopping so that you don't overspend.
Warranty: Most fridge freezers come with a one-year warranty. However, some brands offer longer warranties, so it is worth checking before you buy.
Once you have considered these factors, you can start to narrow down your choices.
Tips for Getting the Most Out of Your Fridge Freezer
Once you have chosen a fridge freezer, there are a few things you can do to extend the life and efficiency of it.
Defrost regularly: Defrosting your fridge freezer regularly will help it to run more efficiently and prevent the build-up of frost.
Organise your food: Organising your food will help you to find what you need quickly and easily, and it will also help to keep your fridge freezer organised.
Clean regularly: Cleaning your fridge freezer regularly will help to remove bacteria and keep your food fresh.
Avoid overloading your fridge freezer: Overloading your fridge freezer can prevent the cold air from circulating properly, which can lead to food spoilage.
Don't open the door too often: Opening the door of your fridge freezer too often can let out the cold air, which can also lead to food spoilage.
By following these tips, you can ensure that your fridge freezer lasts for many years and keeps your food fresh and delicious.
Cookology has a collection of fridge freezers for every kitchen, each with a 1-year warranty for your peace of mind. Browse our selection today here, to find your perfect fridge freezer.
Check out our range of Fridge Freezers